AUDIO RECORDING BELOW
by Dick Bourne
Mid-Atlantic Gateway
(Includes Rare Vintage Audio Recording)
"You might have pushed me around when I was five years old. You were a lot bigger then, brother. But times have changed. You wanna push me around now? Get a contract, and just like Buddy Rogers learned, brother, I'll go through you to get to Snuka." -Ric Flair, World Wide Wrestling, January 12, 1980
In late 1979, Gene Anderson retired from full-time competition to begin his managerial career, taking over the contracts previously held by Buddy Rogers. One of those wrestlers was "Superfly" Jimmy Snuka, the reigning United States Heavyweight champion.
Ric Flair, at this point a beloved fan-favorite in the Mid-Atlantic area, was chasing the U.S. title once again, a title he never lost in the ring to begin with. He had given up the championship in August of that year when he and Blackjack Mulligan won the NWA World Tag Team titles. Snuka subsequently won the vacant U.S. championship in a tournament. Now Flair wanted the U.S. title back.
But in January of 1980, Gene Anderson suggested on television to "World Wide Wrestling" host Rich Landrum that he didn't think Flair deserved a shot at Snuka when he couldn't even beat him (Gene), calling himself "the teacher." In wrestling lore, it was Flair's cousins Gene and Ole Anderson that broke him into the business and taught him the ropes.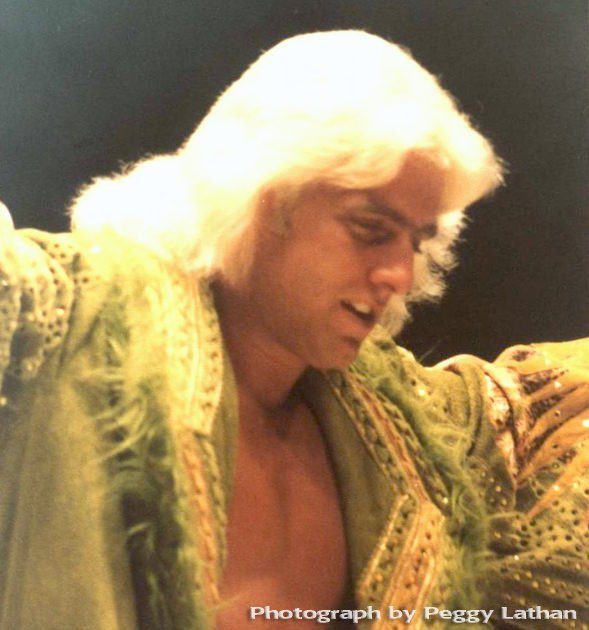 Flair obviously took issue with that and challenged Anderson to a match and told his cousin to name the town and that if he couldn't beat him in under 30 minutes with the figure four leglock he would never wrestle in that town again. And if he won, he would get the U.S. title shot at Snuka.
Anderson agreed, but said there would be something else Flair would have to put up. The following week, Anderson announced the stipulation and presented Flair with a contract: if Flair didn't beat him in under 30 minutes with the figure-four, he would have to shave his head!
We are happy to present here a vintage audio recording of the confrontation described here between Ric Flair and Gene Anderson, on World Wide Wrestling hosted by Rich Landrum and Johnny Weaver:

RIC FLAIR / GENE ANDERSON CONFRONTATION (2:34)


In a recent story here on the Gateway, I outlined a series of title matches over the years where Flair was chasing a championship with his "golden mane" on the line and how that stipulation proved enough motivation to Flair to never lose one of those matches. That same motivation served him well in the matches with Anderson that took place at the end of January and first of February as Flair defeated Anderson in each one.

There were at least four of those matches, taking place in Columbia and Charleston, SC, Greensboro, NC, and Hampton, VA (newspaper ad seen above.)

As a result of these matches, Gene Anderson had to begin using a cane because Flair had injured his knee with the figure-four. The cane became a source of great controversy after that as Gene often used it to interfere in matches where he managed Snuka, the Sheik, Stevens and others. It was also the cane that legitimately broke Ric Flair's nose in an angle gone haywire when Valentine tuned on Flair in the summer of 1980 setting up Valentine's eventual first U.S. title run.

After the Figure Four/Hair match challenges between Flair and Gene Anderson, Flair would eventually take the U.S. title from from Snuka in April of 1980, but not before enduring one of the most brutal feuds in Flair's long career. He and Snuka, with manager Gene Anderson always causing trouble at ringside, had one of the most bloody feuds in Mid-Atlantic Wrestling history.


* * * * * *
Thanks to Mark Eastridge for the newspaper clipping,
Gary Wray for the audio recording,
and Carl Richardson for additional research.