by Dick Bourne
Mid-Atlantic Gateway
"...if you're big star bound, let me warn you, it's a long hard ride." -David Allan Coe

As the fall of 1985 began, I was convinced of one thing: Sam Houston was going to be a huge break-out star for Dusty Rhodes and Jim Crockett Promotions. It was probably a year or two away before he would be on top, but it was going to happen. He had that "it" factor.
But he never made it.
It's too bad because he was still so young and hadn't even filled out physically yet and already had so much potential and was so smooth in the ring. And he had that great Texas gimmick that Dusty would have pushed to the moon.
His personal demons took over, and it didn't help that Dusty put him in a position he just wasn't yet ready for as the top babyface in the Kansas City territory that Jim Crockett Promotions had recently taken over. That move helped finish off that territory and derailed Sam's career.
This match in the video embedded above was one of Sam's biggest moments as a "young lion" for the company. He upset Arn Anderson on "World Wide Wrestling" from September 7, 1985, at a time where Arn had only recently stepped onto the main event stage himself as one half of the modern day Minnesota Wrecking Crew. This was just as the Four Horsemen were starting to take form, even if we didn't know that at the time. You'll notice Sam with a cast on his arm; the Andersons and Tully Blanchard had jumped him weeks earlier and broken his arm as a warning to Dusty Rhodes and Magnum T.A. of what could happen to them.
Sam went on later to win the Mid-Atlantic Heavyweight Championship and the Central States Championship for JCP before leaving for the WWF for a short stint.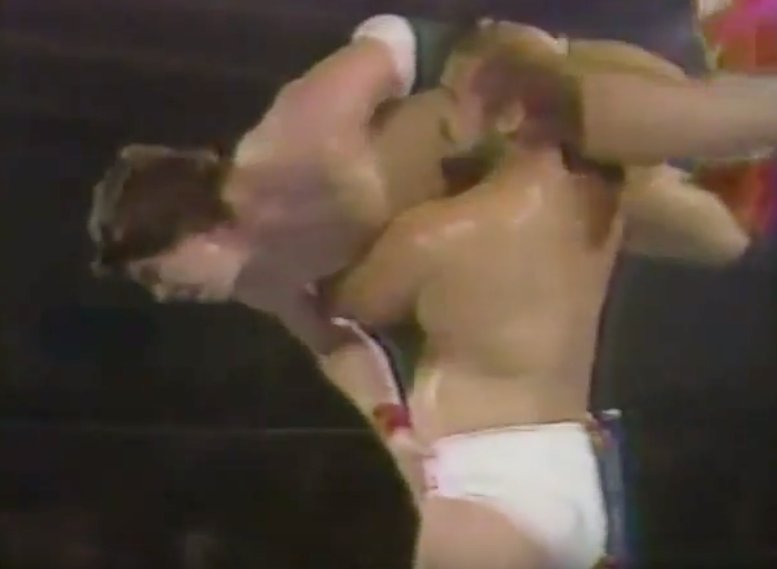 On a side note, David Crockett calls the match (along with Ole Anderson and Tony Schiavone.) It always amused me how David mispronounced Arn's name as 'Iron' Anderson. He could say the word 'arm', as in "Sam Houston's broken arm", but he could never quite seem to say 'Arn' Anderson.
Also, as an avowed mark for the Andersons, I loved seeing Arn wearing the famous "Anderson boots" and executing two perfect "Anderson slams" (a modified hammerlock slam) on Houston's broken arm. Those slams even got Ole excited a little bit, as he was doing color commentary with David Crockett.
The match also features appearances by Dusty Rhodes and Magnum T.A.
1985 was a great year. Sam Houston was a part of what made that fall of 1985 special, even if part of a smaller background story. As Dusty liked to say, quoting David Allan Coe, he certainly was "big star bound."