The 1986-1988
Crockett Cup Trophy
by Dick Bourne
Mid-Atlantic Gateway
One of the more famous and still talked-about wrestling events ever is the Jim Crockett, Sr. Memorial Cup tag team tournament that took place for Jim Crockett Promotions from 1986-1988. The image of the large cup presented to the annual tournament winners is iconic, and still resonates with fans to this day. The modern-day National Wrestling Alliance even resurrected the tournament in 2019, and although the follow up event in 2020 was sidelined by the covid pandemic, they hopefully will continue that renewed tradition.
What is less known is that the 1986 Crockett Cup wasn't actually the first trophy to carry that name. Hockey fans in particular will be interested to learn that in 1974 the Southern Hockey League (SHL) named their new championship trophy after the late Jim Crockett, Sr. It would be called the James Crockett Cup. Crockett was a big supporter of hockey in Charlotte, and the league generally. He had passed away one year earlier. The league would at various times have teams in many of the traditional Mid-Atlantic Wrestling cities, including Charlotte, Greensboro, Winston-Salem, Richmond, Roanoke, Hampton, and Norfolk.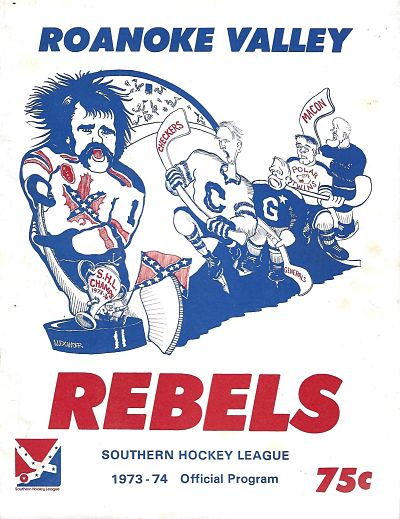 The Roanoke Rebels were the first
team to win the James Crockett Cup

The 1973-1974 season championship came down to the Charlotte Checkers and the Roanoke Rebels. Charlotte and Roanoke were linchpin cities for pro wrestling in the region, promoted by the Crockett family, and in the case of Roanoke, local promoter Pete Apostolou as well. Apostolou also had ties to hockey in Roanoke.
The first winners of the James Crockett Cup, for the 1973-1974 season, were the fighting Rebels from Roanoke. The Checkers from Charlotte won the next two seasons.
Ironically, much like the Jim Crockett, Sr. Memorial Cup in wrestling, the hockey championship trophy was only presented for three years, from 1974-1976. The SHL folded in the middle of the 1976-1977 season. Jim Crockett Promotions was sold to Ted Turner in 1988, ending the three-year run of the Crockett Cup in wrestling.
I've not come across a photo of the actual Crockett Cup trophy for the SHL, but we're always keeping an eye out. A nice little bit of Crockett family history.

Thanks to Mark Eastridge for his assistance with this article.