by Dick Bourne
Mid-Atlantic Gateway
The new episode of the "Mid-Atlantic Championship Podcast" has dropped and features a look at the
Mid-Atlantic Championship Wrestling episode from March 6, 1982
.
This show is a sentimental favorite of mine because I was living and working in Alexander City, AL, having just moved there a couple of months before this show aired. I was really homesick for the wrestling I loved so much in the Mid-Atlantic area. But on this particular weekend, I was making my very first return trip to the Mid-Atlantic area, visiting my grandparents in Spartanburg, SC, and this was one of the shows I was able to catch while on that visit.
This show features the return of the Briscos to the Mid-Atlantic area. You'll hear audio on the podcast of Caudle introducing them saying, "It's been a long, long time - Jack and Jerry Brisco!" It had indeed been almost a decade since the Briscos regualrly wrestled here, although they made many special appearances here, particularly in Greensboro, over the years. Both Jack and Jerry had held the Eastern/Mid-Atlantic heavyweight title here, and Jerry had been part of exciting tag team combinations with Thunderbolt Patterson, Sandy Scott, and of course his brother Jack.
The two brothers had been appearing as a team in the ongoing NWA World Tag Team tournament, having wrestled in both the Charlotte and Richmond regional tournaments. But this would be their first TV appearance in the WPCQ studio, and it would be a full-time return for Jack for roughly the next two years. Piper was funny in this segment. When Bob said he wanted to introduce the Briscos, Piper said, "It will be a pleasure, and I am sure it will be a pleasure for them to meet me, too." This was a classic segment, foreshadowing right away the classic feud that would develop between Jack Brisco and Roddy Piper.
It's a tiny little detail, but it was cool to hear Mike Sempervive give mention on the podcast to the bright red sport coat Roddy Piper was wearing on this show while doing color commentary with Bob Caudle. I had been watching a lot of Georgia Championship Wrestling over the past months and Roddy frequently wore that same sport coat while doing color commentary with Gordon Solie on that show. Most famously, though, it is the same sport coat Piper is wearing on the cover of the (now hard to find) Georgia Wrestling 1983 calendar, which is has become something of a collectors item. Anyway, whenever I see Piper in that red coat, I think of that Saturday I reunited with Mid-Atlantic Wrestling, if only for one weekend.
Regarding the podcast, if you're still unfamiliar (and if you are a Mid-Atlantic fan, you should be checking this great podcast out every week), Mike Sempervive and Roman Gomez review another episode form the series that is
currently available in the In-Ring/Territories section of the WWE Network
. The podcast is a production of the Arcadian Vanguard Podcast Network and is available to stream on their website and anywhere else you get your podcasts (such as iTunes, etc.)
We continue to enjoy this weekly deep dive into each of these Mid-Atlantic Championship Wrestling episodes and encourage you to check it out if you haven't already done so.
Also available from the podcast is a special "
Prelude Episode
" that set the stage for the year 1982 and things to come, as well as two "bonus" episodes, one looking back at
Starrcade '84
, the other a special bio/profile of the patriarch of the Crockett promotional empire
Jim Crockett, Sr.
Both of these bonus shows are excellent!
Previous Episodes of the podcast can be found on their website as well as linked from our
TV and Podcast Summary Index
.
* * * * *
From the
"Mid-Atlantic Championship Podcast" website for this episode
: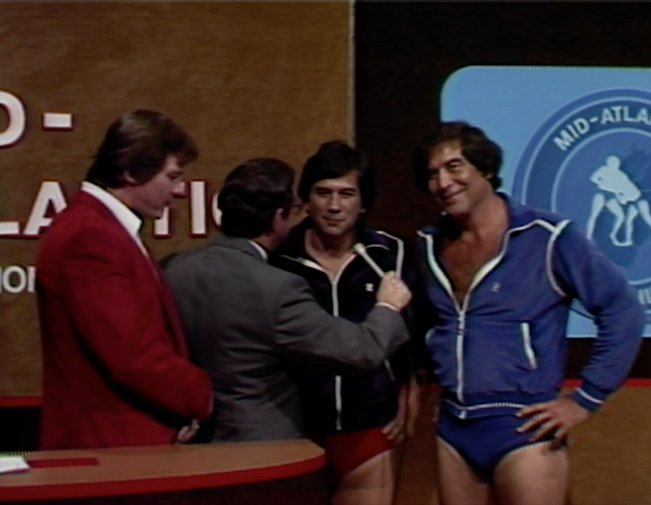 Welcome to The Mid-Atlantic Championship Podcast. On this episode of the show, Mike Sempervive returns alongside Roman Gomez, to take a look at Mid-Atlantic Championship Wrestling from March 6, 1982, featuring:




Another showcase performance for Roddy Piper, and where was he better at doing color: the Carolinas or Atlanta?

In the wake of Greensboro, the Sarge's Privates are proving to be a handful.

Austin Idol continues to ascend, while Jimmy Valiant gets under everyone's skin.

Promos from this week's Maple Leaf Wrestling, hyping the snow-delayed $27,000 Cadillac Cup tournament on March 7.




Plus results from around the loop – including Tri-State still on life support. Would Ricky Steamboat have made a good heel? Promo Trifecta, and so much more, on another exciting edition of the Mid-Atlantic Championship Podcast!
Also, be sure to also check out
David Taub's summaries of the Mid-Atlantic shows
that are on the WWE Network. We will be cross-referencing that listing with links to the podcast episodes as well.