by Dick Bourne
Mid-Atlantic Gateway
The new episode of the "Mid-Atlantic Championship Podcast" has dropped and features a look at the
Mid-Atlantic Championship Wrestling episode from March 13, 1982
.
I loved the choice of photo they've used on the webpage for this show (also seen below) of Austin Idol filming Stan Hansen with an 8mm movie camera at ringside. This was something Idol was doing at the time to "scout" teams that were entered into the NWA World Tag Team Tournament going on at that time. I always thought this was unintentionally hilarious because I figured if a 20-year-old kid like myself had a VCR, why couldn't a big time wrestler like Austin Idol? To be fair, VHS video recording machines were just barely entering the mainstream at that time and were frightfully expensive, averaging $800 - $1200 (in 1982 dollars!) with just a single tuner and no remote control! (And full disclosure, that VCR I was bragging about having at that time was my family's VCR, not mine!)
Another interesting tidbit, Ole Anderson took a shot at Memphis wrestling (or perhaps "Tennessee wrestling" in general) with this comment during the closing interview of the show:
"Valiant's a big kid now, making a big name for himself, first time I guess he's ever been in the big-time where people can see him."
While likely a bit of a rib on Valiant (Ole clearly saw value in him as Valiant was was being pushed like crazy), we could actually make a list of all the shots Ole took at other promoters and promotions over the years on TV. Good ol' Ole Anderson, always stirring the pot with somebody.
Regarding the podcast, if you're still unfamiliar (and if you are a Mid-Atlantic fan, you should be checking this great podcast out every week), Mike Sempervive and Roman Gomez review another episode form the series that is
currently available in the In-Ring/Territories section of the WWE Network
. The podcast is a production of the Arcadian Vanguard Podcast Network and is available to stream on their website and anywhere else you get your podcasts (such as iTunes, etc.)
We continue to enjoy this weekly deep dive into each of these Mid-Atlantic Championship Wrestling episodes and encourage you to check it out if you haven't already done so.
Also available from the podcast is a special "
Prelude Episode
" that set the stage for the year 1982 and things to come, as well as two "bonus" episodes, one looking back at
Starrcade '84
, the other a special bio/profile of the patriarch of the Crockett promotional empire
Jim Crockett, Sr.
Both of these bonus shows are excellent!
Previous Episodes of the podcast can be found on their website as well as linked from our
TV and Podcast Summary Index
.
* * * * *
From the
"Mid-Atlantic Championship Podcast" website for this episode
: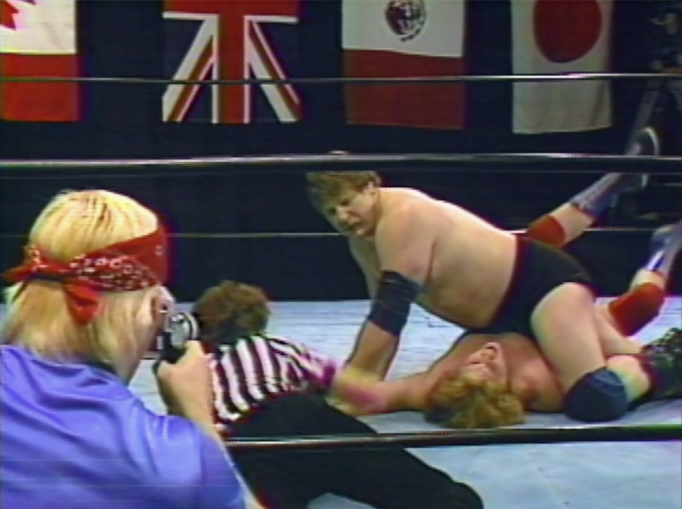 Welcome to The Mid-Atlantic Championship Podcast. On this episode of the show, Mike Sempervive returns alongside Roman Gomez, to take a look at Mid-Atlantic Championship Wrestling from March 13, 1982, featuring:






US Champion Sergeant Slaughter once again becomes a focal point of the program, and has picked up a new rival along the way.

An intense Ivan Koloff defends his Mid-Atlantic Television Championship against up Ron Ritchie.

The Boogie Woogie Man Jimmy Valiant continues to make his presence in the area well-known.

Ole Anderson's double-dip, as Roddy Piper and Ray Stevens hype the Georgia contingent debuting in Lansing.




Plus top results from around the loop, great promos, and much more on another exciting edition of the Mid-Atlantic Championship Podcast!
Also, be sure to also check out
David Taub's summaries of the Mid-Atlantic shows
that are on the WWE Network. We will be cross-referencing that listing with links to the podcast episodes as well.