Mid-Atlantic Championship Wrestling
on the WWE Network
Mid-Atlantic Championship Wrestling
TV Summaries & Reviews
by David Taub
Mid-Atlantic Gateway Contributor
This is a review of Mid-Atlantic Wrestling as it appeared on the WWE Network. Results are included for the week (Monday-Sunday of the given week) as available. Please email with any corrections, typos, results, other details at 1davidtaub@gmail.com. Follow
@TaubGVWire
For links to all available summaries as well as links to the Mid-Atlantic Championship Podcast, visit our TV Summary Index.
Mid-Atlantic Championship Wrestling
Original broadcast: 8/28/82
(taped 8/25/82 at WPCQ-TV studios in Charlotte)
WWE Network feed. [
How to watch this show on the WWE Network.
]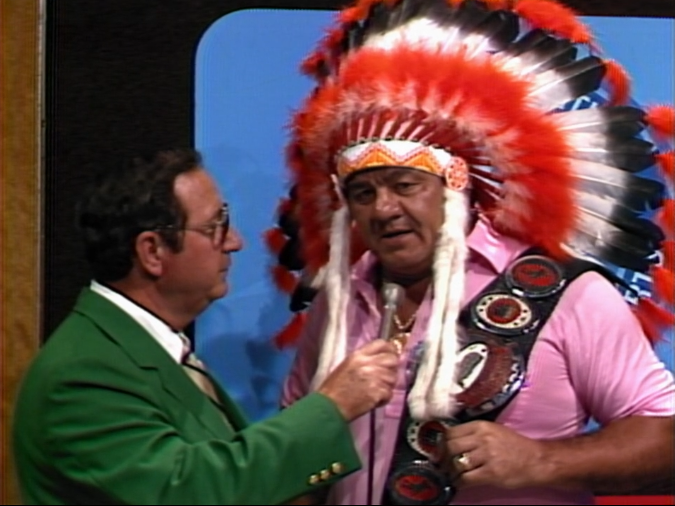 -Int. w/Bob Caudle: Jack Brisco, Ricky Steamboat and Jay Youngblood
Brisco is on crutches. He says Paul Jones and Greg Valentine jumped him the parking lot. He says his leg is sore, but not broken. He issues a challenge to Jones to face him for the Mid-Atlantic Heavyweight championship on TV next week. Steamboat talks about Leroy Brown, then announces Slaughter lost the U.S. Heavyweight championship to Wahoo and is now serving a 30-day suspension. Youngblood is hot at Humperdink, saying he is responsible for both Wahoo and Jimmy Valiant receiving haircuts.
[Break]
Match 1:
Jay Youngblood d. Pvt. Jim Nelson
Tommy Young is the referee for the hour. Semi-even match. Nelson whips Youngblood into the corner. Youngblood catapults himself over and onto the apron. He comes back in with a sunset flip for the pin.
[Break]
Match 2:
Greg Valentine & Leroy Brown (w/Sir Oliver Humperdink) d. Ron Ritchie & Keith Larson
Valentine has a white robe with red trim. Who had better robes, Valentine or Flair? Anyway, Valentine is a new member of the House of Humerdink. Caudle talks about the House's membership. Humperdink chimes in on the mic. Heels are dominant. Brown looks incredible with his power moves. Valentine finished off Larson with the bionic elbow.
-Int. w/Bob Caudle: Pork Chop Cash & King Parsons
This is in lieu of local promos. Audio is kind of low mainly because Cash keeps turning his head away from the mic. Typically generic stuff. Babyfaces are good, heels are bad.
[Break]
Match 3
Paul Jones (w/Sir Oliver Humperdink) d. King Parsons
Parsons dominates with bodyslams and dropkicks, frustrating Jones. But Parsons tries one dropkick too many, and Jones slaps on the Indian Death Lock for the submission.
[Break]
-Int. w/Bob Caudle: Wahoo McDaniel
McDaniel says when Slaughter had to wrestle by the rules, he lost. Hair will grow back. We go to a clip of the end of the Indian strap match 8/22/82 from Charlotte, title vs. hair. Wahoo touches the fourth turnbuckle for the win. But, Slaughter attacks Wahoo, ties him up with the strap. Leroy Brown and Oliver Humperdink join in to cut Wahoo's hair. Ron Ritchie tries to make the save to no avail. Jimmy Valiant tries the save and gets some of his hair cut.
Back to Wahoo. He says they don't like it, but he is the champion. Wahoo eyes Jos LeDus in the ring. He says if Valentine wants the title, come get it.
Caudle, wearing the Augusta green jacket, introduces the next match via blue screen.
[Break]
Match 4
Jos LeDuc (w/Sir Oliver Humperdink) d. Mike Davis
The chyron misspells Jos LeDuc's name "Joe LeDuke"
An easy win for LeDuc with the legdrop. Humpedink joined in on the commentary. Said he's not from Montreal, he's from the woods way north.
-Int. w/Bob Caudle: Jos LeDuc and Oliver Humperdink
This is in lieu of local promos. Humperdink is not wearing a suit and tie, but a Hawaiian shirt. LeDuc says no one will hurt Humperdink. He doesn't care about titles, he wants to prove he is the better man. He's known as the Canadian Freight Train.
[Break]
Match 5
Roddy Piper & Rick Steamboat d. The Ninja & Juan Reynoso
Piper and Steamboat seem a little slow in who will start the match. Piper is very aggressive. Caudle notes that the only thing changed about Piper is his partners. Piper no-sells Reynoso's punches and unloads on him. Caudle constantly calls Piper "wild." A few minutes later, Ninja takes advantage on Piper, but he eventually makes the tag to Steamboat. The match ends with a Steamboat top-rope flying bodypress on Reynoso.
-Int. w/ Bob Caudle: Paul Jones & Greg Valentine & Humperdink & LeDuc
Jones officially accepts Brisco's challenge. "I've got the coward out of the closet." Valentine says he's gunning for McDaniel. He references the broken leg. LeDuc says he remembers Valiant from Memphis, 1978. He will let Valiant get to Humperdink "over my dead body."
"So long for now."
* * * * * * * * * * * *
Results for the week, 8/23/16-8/29/82
(source: Clawmaster's Archive via Sports and Wrestling blog posted by David Baker; "Wrestling" newsletter by Joe Shedlock
Mon., 8/23/82 Greenville, SC
Wahoo McDaniel beat Sgt. Slaughter
Mike Davis draw Juan Reynosa
Bill White beat Jerry Bright
Kelly Kiniski beat Jim Dalton
Pvt. Kernodle beat King Parsons
Roddy Piper & Jerry Brisco beat Ivan Koloff & Paul Jones
Tue., 8/24/82 Columbia, SC
Ron Ritchie beat Ali Bey
Jimmy Valiant & Ricky Steamboat beat Greg Valentine & Ivan Koloff
Jay Youngblood beat The Ninja by DQ
Kelly Kiniski beat Juan Reynosa
Mike Rotundo beat Jim Dalton
Tue., 8/24/82 Raleigh, NC
Leroy Brown & Paul Jones beat Roddy Piper & Johnny Weaver
Pvt. Nelson & Pvt. Kernodle beat Porkchop Cash & King Parsons
Johnny Weaver beat Gene Anderson
Mike Davis beat Ken Timbs
Bill White beat Keith Larson
Wed., 8/25/82 Charlotte, NC(TV)
Paul Jones beat King Parsons
Jos LeDuc beat Mike Davis
Roddy Piper & Ricky Steamboat beat Juan Reynosa & The Ninja
Jay Youngblood beat Pvt. Nelson
Greg Valentine & Leroy Brown beat Keith Larson & Ron Ritchie
Greg Valentine beat Gary Black
King Parsons & Porkchop Cash beat Bill White & The Ninja
Jos LeDuc beat Ron Ritchie
Kelly Kiniski beat Paul Jones DQ
Ricky Steamboat & Jay Youngblood beat Jim Dalton & Juan Reynosa
Thu., 8/26/82 Sumter, SC
Roddy Piper, Wahoo McDaniel & Jay Youngblood beat Paul Jones, Leroy Brown & Oliver Humperdink
Pvt. Kernodle & Pvt. Nelson beat Pork Chop Cash & King Parsons
Ron Ritchie beat Juan Reynosa
Mike Davis beat Ben Alexander
Thu., 8/26/82 Newberry, SC
Keith Larson beat Ali Bey
Vivian St. John beat Leilani Kai
Mike Rotundo beat Bill White
Kelly Kiniski beat Jim Dalton
The Gladiator beat Keith Larson
Johnny Weaver beat The Ninja by DQ
Ricky Steamboat beat Ivan Koloff
Fri., 8/27/82 Richmond, VA
Kelly Kiniski TLD Ken Timbs
Mike Rotundo d. Jim Dalton
Pork Chop Cash & King Parsons d. Pvt. Kernodle & Pvt. Nelson
Jay Youngblood d. Ninja by reverse decision
Ricky Steamboat & Roddy Piper d. Paul Jones & Leroy Brown
Wahoo McDaniel d. Ivan Koloff
Sat., 8/28/82 Hampton, VA
Kelly Kiniski beat Juan Reynosa
Wahoo McDaniel, Roddy Piper & Johnny Weaver beat Leroy Brown, Paul Jones & Oliver Humperdink
Mike Rotundo beat The Scorpion
Ron Ritchie beat Ken Timbs
Sun., 8/29/82 Roanoke, VA
Jimmy Valiant beat Ivan Koloff in a cage match
Ricky Steamboat beat Matt Borne
Pvt. Nelson & Pvt. Kernodle beat Jake Roberts & Jay Youngblood
Mike Rotundo beat Ben Alexander
Kelly Kiniski beat Bill White
Jack Brisco beat Sgt. Slaughter by DQ
Sun., 8/29/82 Asheville, NC
Wahoo McDaniel & Roddy Piper beat Leroy Brown & Paul Jones by DQ
Jay Youngblood beat The Ninja
Kelly Kiniski beat Juan Reynosa
Mike Rotundo beat The Gladiator
Ron Ritchie draw The Scorpion
Mike Davis beat Keith Larson