Mid-Atlantic Championship Wrestling
on the WWE Network
Mid-Atlantic Championship Wrestling
TV Summaries & Reviews
by David Taub
Mid-Atlantic Gateway Contributor
This is a review of Mid-Atlantic Wrestling as it appeared on the WWE Network. Results are included for the week (Monday-Sunday of the given week) as available. Please email with any corrections, typos, results, other details at 1davidtaub@gmail.com. Follow
@TaubGVWire
For links to all available summaries, visit our TV Summary Index.
Mid-Atlantic Championship Wrestling
Original broadcast: 5/01/82
(taped 4/28/82 at WPCQ-TV studios in Charlotte)
WWE Network feed. [
How to watch this show on the WWE Network.
]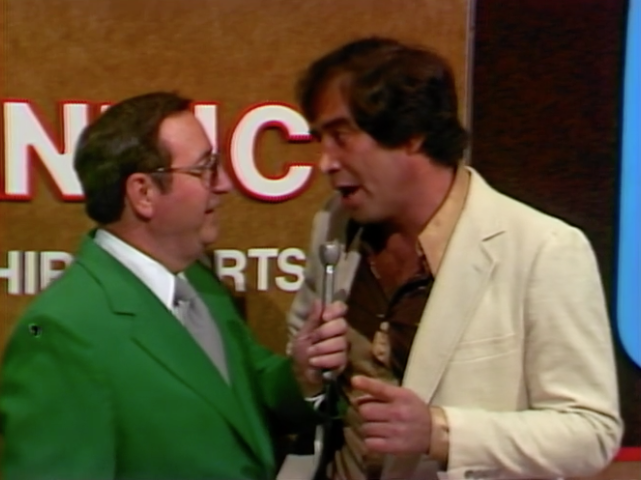 Bob Caudle, back with his green jacket, opens the show with NWA representative Sandy Scott. Scott says the western regional of the tag team tournament is decided, and four teams remain in the eastern regional. The belts are on the announcing desk. The final four in the east are Ole & Hansen, The Briscos, Mosca & Killer Kahn and the Samoans. They will be held in Charlotte soon.
—Int. w/Caudle: Jack Brisco
Brisco and Caudle talk about Piper whipping Rich. Caudle promises a VTR of the situation next week (it took place 4/18/82 on Georgia Championship Wrestling). Roddy Piper comes out and is at maximum annoyance. He says he was walking through the Pittsburgh airport and found an Indian tchotchke for Brisco as a gift. If he didn't want it, Piper would take it back. Piper says he's proud of heritage and wears kilt. He asks why Brisco isn't proud of his heritage because he doesn't wear head feathers. Brisco brushes off the semi-racial insults, and wants a title shot. Piper says he's willing to put it on the line, then walks off.
[Break]
Match 1
Wahoo McDaniel & Don Muraco d. Bill White & Pretty Boy Fergie
A blue-clad Sonny Fargo is the referee. Great continuity from McDaniel & Muraco. Sandy Scott sticks around on commentary. Muraco finishes off White with the (tombstone) piledriver.
[Break]
—Int. w/Caudle: Wahoo McDaniel & Don Muraco
Muraco acknowledges his rulebreaking ways in the past, but says he's given Wahoo his word to compete for the tag team championship. I can't wait to see where this goes.
VIDEO TAPE - We then go to a VTR from that week's World Wide Wrestling of Slaughter vs. Wahoo in an apparent non-U.S. title match. It picks up the final few minutes, with hot action. Muraco comes out to neutralize The Privates. Wahoo fights out of the Cobra. He pins Slaughter after a chop.
—Int. w/Bob Caudle: Keith Larson; Ron Ritchie
This may be in lieu of local promos. Ritchie talks about Wahoo's win. Larson talks about his upcoming match versus Roddy Piper.
[Break]
—Int. w/Caudle: Terry Taylor
Caudle says Taylor has a chance to settle "this thing" with Kernodle next. Taylor says he'll give it his all.
Match 2
Terry Taylor DDQ Pvt. Kernodle
Kernodle is wearing the Mid-Atlantic tag team title belt, although it's not acknowledged. The two men spend most of the match brawling. Kernodle tosses away Fargo. When the referee attempts to get in between them, he just gets caught in the middle, literally. He calls for the bell, DDQ.
[Break] (the original bumper music bleeds through)
—Int. w/Caudle: Sgt. Slaughter; Ole Anderson; Angelo Mosca & Killer Kahn; Roddy Piper
Slaughter says Wahoo didn't beat him, Wahoo & Muraco beat him. They will pay. Ole says the tag title means money. He says there can be no one else. Mosca jumps in, with Kahn in tow. Mosca talks about their chances, as Ole says do your best. Piper, in "Too Much Rod" shirt demonstrates how he strapped Rich. Piper has his kilt on.
[Break]
Match 3
Non- Mid-Atlantic championship: Roddy Piper [ch.] d. Keith Larson
Piper has his tartan trunks on. Tartan boots too. Piper wrestles aggressively and dominates. He finishes Larson with the sleeper.
—Int. w/Bob Caudle: Carl Fergie & Bill White & Jim Dalton
(Live studio interview where the local promo segment would normally be.
Pretty Boy talks smack and yells at the fans. He name drops Memphis, trash talks Wahoo & Muraco and complains about Muraco's piledriver. Dalton agrees. Makes fun of people who give 110%. Dalton gives 100%. White talks abut Wahoo & Muraco and is a little more complimentary.
[Break]
—Int. w/Caudle: Jack Brisco
Brisco talks about scouting teams still remaining in the tag tournament.
VIDEO TAPE - We then go to a VTR of the Brisco Brothers vs. Steve Sybert & Mike Miller match from the 4/03/82 Mid-Atlantic Championship Wrestling. Back to a few more comments with Brisco,.
VIDEO TAPE - VTR of Ole & Hansen vs. Tony Anthony & Ron Ritchie.
Match 4
Angelo Mosca & Killer Kahn d. Ron Richie & Tony Anthony
Caudle keeps pushing the tape of Piper whipping Rich for next week. Kahn makes those guttural noises with every offensive move. Watch Mid-South 1982 for Bill Watts' detailed explanation of why. Ole Anderson comes to ringside to scout. Anthony takes a beating. Mosca puts him out of his misery, pinning him after a swinging elbow the head.
—Int. w/Caudle: Jack Brisco; Don Muraco
Brisco has a brief word on the tournament, then says he's coming after Piper. Muraco is out, wearing a flower lei shirt. He's sticking by the Indian. He wants to win the tag tournament.
"So long for now!"
* * * * * * * *
Results for the week, 4/26/82-5/02/82
(source: Clawmaster's Archive via Sports and Wrestling blog posted by David Baker)
Mon, 4/26/82 Ottawa, Ontario (Maple Leaf Wrestling)
Angelo Mosca vs. John Studd
Nick Bockwinkel vs. Jay Youngblood
Ivan Koloff vs. Jimmy Valiant
Johnny Weaver beat The Ninja
Plus other matches
Mon., 4/26/82 Greenville, SC — Greenville Memorial Auditorium
Porkchop Cash beat Carl Fergie
David Patterson beat Keith Larson
Paul Jones beat Jim Dalton
Ron Ritchie beat David Patterson
Jack Brisco beat Roddy Piper
Wahoo McDaniel & Don Muraco beat Ole Anderson & Stan Hansen by DQ
Tue., 4/27/82 Columbia, SC
Kelly Kiniski beat Tony Anthony
David Patterson beat Keith Larson
Johnny Weaver beat Alfred Hayes in a lumberjack match
Porkchop Cash beat Don Kernodle
Jack Brisco & Jay Youngblood beat Ole & Gene Anderson
Tue., 4/27/82 Raleigh, NC — Raliegh Civic Center
Don Muraco vs. Pretty Boy Fergie
Killer Kahn vs. Paul Jones
Sgt. Slaughter & Angelo Mosca vs. Jake Roberts & Wahoo McDaniel
4/28/82 Charlotte, NC(TV)
Don Muraco & Wahoo McDaniel vs. Carl Fergie & Bill White
Terry Taylor vs. Pvt. Kernodle
Roddy Piper vs. Keith Larson
Angelo Mosca & Killer Kahn vs. Tony Anthony & Ron Ritchie
Fri., 4/30/82 Charleston, SC
Jake Roberts & Terry Taylor (sub for Don Muraco) beat Pvt. Nelson & Pvt. Kernodle
Killer Kahn beat Porkchop Cash
Ron Ritchie vs. Jim Dalton
Terry Taylor vs. Steve Sybert
Ken Timbs vs. Tony Anthony
Fri., 4/30/82 Knoxville, TN
Johnny Weaver beat Roddy Piper by DQ
Jimmy Valiant beat Ivan Koloff by DQ
Jay Youngblood beat The Ninja in an Indian strap match
Bill White beat Abe Jacobs
Keith Larsen beat Deke Rivers
Vinnie Valentino draw Rick Connors
Sun., 5/02/82 Ashville, NC
Wahoo McDaniel beat Roddy Piper
Jimmy Valiant & Paul Jones beat Ivan Koloff & The Ninja by DQ
Jim Dalton beat Tony Anthony
Kelly Kiniski beat Ken Timbs
Tim Horner beat Tony Russo
Sun., 5/02/82 Roanoke, VA
Ric Flair & Jake Roberts beat Angelo Mosca & Gene Anderson
Killer Kahn beat Johnny Weaver
Pvt. Kernodle & Pvt. Nelson beat Jay Youngblood & Porkchop Cash
Ron Ritchie beat Steve Sybert
Mike Davis beat Bill White
Sun., 5/02/82 Greensboro, NC
Mike Rotundo TLD David Patterson
Killer Kahn d. Keith Larsen
Don Muraco d. Pretty Boy Carl Fergie
Jack Brisco d. Gene Anderson
Ivan Koloff & Ninja d. Jimmy valiant & Ron Ritchie
Waho McDaniel d. Sgt. Slaguhter
NWA World Champion Ric Flair beat Angelo Mosca by DQ