Mid-Atlantic Championship Wrestling
on the WWE Network
Mid-Atlantic Championship Wrestling
TV Summaries & Reviews
by David Taub
Mid-Atlantic Gateway Contributor
This is a review of Mid-Atlantic Wrestling as it appeared on the WWE Network. Results are included for the week (Monday-Sunday of the given week) as available. Please email with any corrections, typos, results, other details at 1davidtaub@gmail.com. Follow
@TaubGVWire
For links to all available summaries, visit our TV Summary Index.
Mid-Atlantic Championship Wrestling
Original broadcast: 5/15/82
(taped 5/12/82 at WPCQ-TV studios in Charlotte)
WWE Network feed. [
How to watch this show on the WWE Network.
]
WWE Network Direct Link to this show:
Mid-Atlantic 5/15/82
[
Podcast
]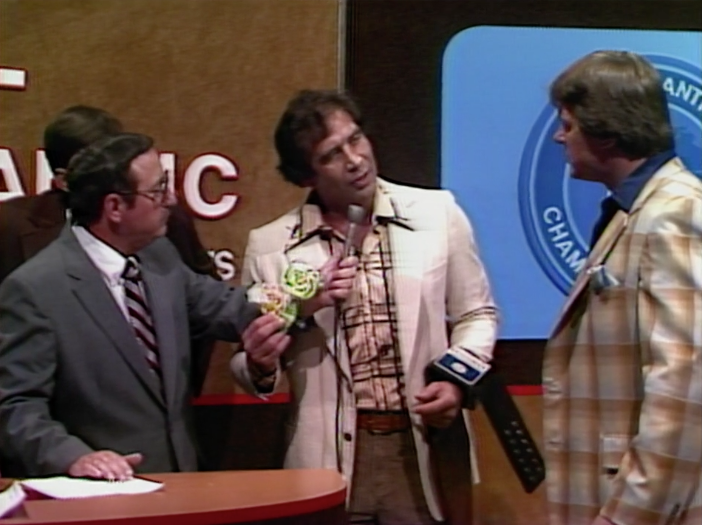 We skip a week. (5/8/82 show not available on the WWE Network.)
Bob Caudle & David Crockett open the show. Crockett's back, and he says we have our tag team tournament finals, Ole & Hanson vs. Wahoo & Muraco in a best-of-seven series with the sites to be determined.
Sandy Scott joins the announcers. Big changes are coming. In a 30-day experiment, title matches will have no DQ, no CO, no time limit — there must be a winner.
Scott says it was a big night in Greenville. We have a new Mid-Atlantic champion. Jack Brisco beat "Rodney" Piper. Scott presents Brisco the belt.
An angry Piper comes out with a trash can. He calls Brisco a trash can Indian. Brisco keeps calm. He has a lollipop. He says he's going to give Piper the sucker and stuffs it in his coat pocket on his way out. Tim Horner, who's been hanging out in the background insults Piper, saying if anyone ever needed his can kicked, it was him. Piper then unloads on Horner. Piper jumps in the ring, where Ivan Koloff is. Horner foolishly follows. Piper and Koloff beat on Horner, and he gets tossed out. Brisco is in and he gets double-teamed by Piper & Koloff. David Crockett tries to break it up and Piper elbows him, and Crockett takes a bump! (he doesn't really sell). Muraco comes in to even things out. Caudle is going nuts, and we go to break.
[Break]
Match 1:
Ron Ritchie d. Jim Dalton
Dave Hebner is the referee for the hour. Somewhat a lack of star power for the TV opener. It seems like Mid-Atlantic is in the midst of a talent turnover at this time. Crockett is at the mic with Caudle, no ill effects from getting elbowed during the melee. Lots of talk about the opening segment. Scott joins in late. Ritchie wins with the power slam.
— Int. w/ Bob Caudle: Sgt. Slaughter
Slaughter is sporting a new U.S. title belt. He likes the new no DQ in title matches rule. He blames Wahoo from running out. Says the TV loss last week is just one time. Slaughter says he doesn't have to make any excuses.
[Break]
Match 2:
Killer Kahn d. Vinnie Valentino
Scott is back at the announcers' desk to talk more about the 30-day experiment, where there must be a winner in title matches, no DQ or no CO. More talk about the Piper-Brisco brawl, and the final of the tag team tournament. Kahn wins with the running knee drop.
—Int. w/Bob Caudle: Kelly Kiniski & Mike Davis
This is in lieu of the local promos. Kiniski talks about his TV match vs. Angelo Mosca. Says his dad told him about him. He is fighting for the Kiniski name. Davis cuts a promo on Piper in the name of Jack Brisco. Davis delivers some A-level stuff here.
[Break]
Match 3:
King Parsons d. Tony Russo
This is before he is "Iceman." Parsons has full head of short hair. Still has the Star of David tattoo on his chest. Looks like a less-muscular Butch Reed. Parsons TV debut. For a debut, he sure gives a lot of offense to Russo. Scott joins Caudle & Crockett to talk about the best-of-seven tag team tournament finals. Parsons wins with a headbutt, because, of course.
[Break]
—Int. w/Bob Caudle: Angelo Mosca; Roddy Piper; Ole Anderson
Mosca talks about the new title match rules. He doesn't need a DQ rule.
Then, Piper comes out. This one has been immortalized among tape traders for the past 37 years. Cream of the crop Piper.
He storms Caudle, and for the first time I remember, Caudle doesn't want him there, looking uncomfortable. Piper has a trash can, and consistently calls Brisco a "Garbage Can Indian." Piper, sans shirt, is beat red, but maybe in the best shape of his career at this point.
Piper says he knows the counter to the figure-four. Piper is going nuts. He tells Caudle to shut up and briefly puts his hands on him. Then the ultimate Piper classic line:
"You don't throw rocks at a guy who's got a machine gun, Brisco. You step in my way and I'm going to kill you!"
Try to follow that Ole Anderson. He can't. He covers the new title match rules.
[Break]
Match 4:
Angelo Mosca d. Kelly Kiniski
Paul Jones joins the announcers' desk, talking about the title match rule changes and Piper. He says the rules would eliminated the need for specialty type matches. Mosca taunts Kiniski about his dad, and taunts Jones ringside. Mosca wins with the elbow.
—Int. w/Bob Caudle: Jim Dalton and Steve Sybert
Dalton talks about losing again, and both men talk about the rule changes from a heel's perspective. Dalton says it will prevent guys like Wahoo from running away. Sybert doesn't contribute much.
[Break]
Match 5:
Pvt. Kernodle & Pvt. Nelson TLD Jake Roberts & Johnny Weaver
No acknowledgement of Kernodle & Nelson as Mid-Atlantic tag champs. No belts are seen. Paul Jones, on commentary, asks how Crockett how he feels after taking an elbow. Crowded booth for this match. Scott elaborates that in title matches that go to a time limit draw, there will be a two-minute rest period, then one fall to a finish. Back to this match. Privates work Weaver, who finally makes the hot tag. Roberts gets an "oh, on top of the head" as described by Caudle on Kernodle. Jones called it a brainbuster. We all know it as the DDT. A knee-lift sends Kernodle flying out of the ring. The time is dwindling, as Kernodle is back in the ring. Roberts covers him after a back suplex, but the bell rings and we are done. Crockett says they will have to come back next week. The four continue to fight on the outside after the match.
—Int. w/Bob Caudle: Jake Roberts & Johnny Weaver
They both talk about The Privates stalling for time. That indicates this was a Mid-Atlantic tag team championship match. It was never explicitly said.
"So long for now!"
* * * * * * * * * *
Results for the week, 5/10/82-5/16/82
(source: Clawmaster's Archive via Sports and Wrestling blog posted by David Baker)
Mon., 5/10/82 Greenville, SC
Jack Brisco beat Roddy Piper to win NWA Mid Atlantic Title
Jake Roberts beat Sgt. Slaughter
Don Muraco beat Ole Anderson
Killer Kahn beat Kelly Kiniski
David Patterson beat Vinnie Valentino
Tue., 5/11/82 Columbia, SC
Tony Anthony beat Gary Moore
Vinnie Valentino beat Ken Timbs
Ron Ritchie beat Steve Sybert
Don Muraco beat David Patterson
Jack Brisco & Jimmy Valiant double DQ Ivan Koloff & The Ninja
Wed., 5/12/82 Charlotte, NC(TV)
Johnny Weaver & Jake Roberts no contest with Pvt. Nelson & Pvt. Kernodle
Thu., 5/13/82 Sumter, SC
Roddy Piper vs. Don Muraco
Johnny Weaver vs. Angelo Mosca
Bill White vs. Mike Rotundo
Gary Moore vs. Tony Anthony
Porkchop Cash & Ron Ritchie vs. Carl Fergie & David Patterson
Fri., 5/14/82 Cincinnati, OH
Kelly Kiniski beat Ken Hall
Killer Kahn beat Mike Davis
Don Muraco beat Steve Sybert
Two referees: Bob Armstrong beat Roddy Piper by countout
Jimmy Valiant & Leroy Brown beat Ivan Koloff & The Ninja
Fri., 5/14/82 Hampton, VA
Mike Rotundo d. Ken Timbs
Tim Horner d. Bill White
Ron Ritchie d. Jim Dalton
Pvt. Kernodle d. Terry Taylor
Porkchop Cash d. Pvt. Nelson
Sgt. Slaughter & Angelo Mosca d. Paul Jones & Jake Roberts
5/15/82 Spartanburg, SC
12 Man Battle Royal
Angelo Mosca vs. Jack Brisco
Killer Kahn vs. Ken Hall
Carl Fergie & Bill White vs. Mike Davis & Keith Larsen
Mike Rotundo vs. Ben Alexander
Abe Jacobs vs. Steve Sybert
5/15/82 Wilmington, NC — Legion Stadium
Roddy Piper vs. Leroy Brown
Gene Anderson vs. Paul Jones
David Patterson vs. Vinnie Valentino
Tony Russo vs. Tony Anthony
Ivan Koloff & The Ninja vs. Jimmy Valiant & Jake Roberts
5/16/82 Asheville, NC
Wahoo McDaniel beat Roddy Piper
Jack Brisco & Don Muraco beat Gene & Ole Anderson
Killer Kahn beat Ron Ritchie
Paul Jones & Porkchop Cash beat David Patterson & Carl Fergie
5/16/82 Toronto, Ontario (Maple Leaf Wrestling)
Tim Horner draw Keith Larson
Kelly Kiniski beat Tito Senza
Johnny Weaver & Tony Parisi beat Tarzan Tyler & Pvt. Nelson
Jimmy Valiant beat Pvt. Kernodle
Jake Roberts beat Sgt. Slaughter by DQ
Ivan Koloff beat Ron Bass
Angelo Mosca & Jake Roberts beat Nick Bockwinkel & John Studd